Our Teachers
We are lucky enough to work with a fantastic group of experienced, patient and talented teachers here at Sewisfaction. All of our teachers are friendly and approachable as well as incredibly passionate about their craft and want to share it with you. Check out our Classes & Workshops page to find full details.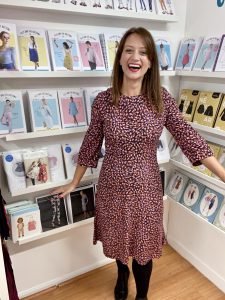 Sheona Ranson
Sheona is the owner of Sewisfaction, a keen dressmaker who loves teaching others about the joy of sewing. Sheona mixes running the business with teaching some of our most popular classes, and particularly enjoys helping students take the fear out of sewing and build their confidence within dressmaking.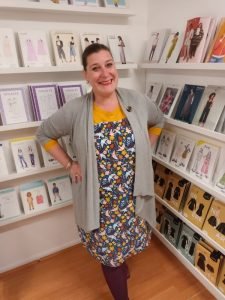 Melanie Willis
Melanie has loved sewing for as long as she can remember! Passionate about supporting beginner sewists on their journey, Melanie's love of sewing and creating is infectious. When she's not teaching, she's using one of her many sewing machines at home, included her vintage Singers, or hand-sewing her beloved Luna Bunny and friends.
Claire-Louise Hardie
Originally trained as a Costume Designer at The Royal Welsh College of Music and Drama, Claire-Louise has worked in all aspects of Costume for Theatre, Film and TV with an impressive CV of employers that includes- ITV, The RSC, The Royal National Theatre & BBC. Her diverse professional experience made her the perfect candidate for the role of Sewing Producer for TV's Great British Sewing Bee Series 1 – 4. She's also a sewing book author and magazine columnist known as The Thrifty Stitcher!
Annabel Steele
Annabel has been teaching sewing classes for the last 5 years, after discovering her skill for passing on her sewing knowledge, specifically dressmaking and children's clothes. A patient, empathetic, and kind teacher, Annabel wants students to enjoy the workshops, but mostly, wants you to fall in love with sewing!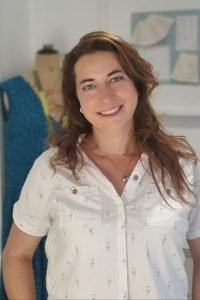 Clare Blackmore- Davies
With over 30 years of sewing experience Clare aka Miss Maker, has a City & Guilds certificate in pattern cutting passed with distinction. She has studied Swim Wear and Lingerie construction at St Martin's College London, and continues to develop her sewing and tailoring skills. She enjoys turning her hand to all forms of sewing, design, construction and textile art, learning through both official study and good old fashioned trial, error and practice.
Naomi Skull
Naomi has been sewing seriously for the last 10 years. She is a self-taught seamstress and runs a small bridal dressmaking and alterations business from her home in Guildford (naomiskullsews.co.uk). Teaching sewing to new and improving students is a passion of hers, and she takes real pleasure in passing on the skills that she has learnt and improved over the years. She believes that we were made to create, and sewing is the perfect outlet for that – no matter what our age or experience!
Lucy Nichols
Lucy is an incredibly talented paper and textile artist who has loved sewing, making and creating from a young age. Lucy graduated from Imperial College with a degree in Mechanical Engineering, but never lost her love of textile and paper art. After returning to university, Lucy now spends her time creating work which indulges both her passion for stitching and her new found love of paper, as well as teaching others.
Zoe Bateman
Zoe loves teaching a wide variety of craft, from macrame to weaving, needlefelting to crochet! Zoe's colourful and approachable style makes crafting fun for both adults and children.